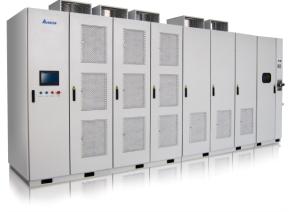 Recently, Delta's high-voltage variable-speed inverters successfully settled in a large-scale biochemical plant in Henan Province and helped the energy-saving transformation of the production process equipment of chemical plants. The successful bid proved once again that the R&D, design and high-performance of Delta high-voltage inverters are closer to China. The various needs of customers can provide users with the most optimized solutions.

A biochemical plant in Henan Province, leading the industry in terms of productivity, is a national key circular economy enterprise. In response to the government's call for energy-saving and emission reduction, the company has continuously transformed its sub-factories in recent years to achieve energy-saving goals. Zhongda Dentsu is supporting the frequency conversion project in key equipments of this project, not only working hard to increase the energy saving and energy saving of the entire project, but also maximizing the energy conservation and cost-effectiveness of the users. Therefore, Delta Electronics Co., Ltd. has invested Delta Delta's MVD1000 series in the two air compressors in the project, and has carried out energy-saving reforms.

Delta High Voltage Inverter MVD1000 is a high-efficiency, miniaturized, highly reliable energy-saving product that can be widely used in thermal power generation, petroleum and petrochemical, mining, metallurgy, cement and building materials, and municipal engineering to provide end customers with complete and easy operation. The frequency conversion device. In this project, through the installation of Delta High Voltage Inverter MVD1000, the flow is adjusted by means of electronic intelligent automation, replacing the original valve control. The frequency conversion speed regulating device enables the electric equipment to be in the best operating state, which greatly improves the operating efficiency, and the energy saving rate exceeds 40%, while prolonging the service life of the motor, reduces the carbon dioxide emissions and wins high recognition from users. The successful operation of this project has laid a good foundation for Delta's high-voltage inverters to enter the high energy consumption industry.
Washing Machine is a high efficiency washing equipment in washing plant no matter for PP PE flakes, films, woven bags or PET flakes washing.
Water spraying from top to internal continuously when machine working, And the strong rotating shaft with special designed paddles will rotating in high speed to touch with the feeded material. Under high speed running and friction function,The small contents or dirties will be scrub off from the main material and filtered out through the screen mesh around the shaft.
Washing Machines,Hot Washing Machine,Friction Washing Machine,High Speed Washing Machine
Suzhou Beakeland Machinery Co., Ltd. , http://www.beakelandpm.com