Shandong Dezhou Baoding Hydraulic Machinery Co., Ltd. is a manufacturer of small excavators, wheel excavators, wood grabbers and other equipment. More than 20 years of professional design and manufacturing experience has been dedicated to the development of small wheel excavator equipment. Baoding 2017 Launched the improved model Baoding BD95W-9 multi-function wheel excavator grab machine, which uses high-quality imported hydraulic components and Baoding years of hydraulic matching experience, durable, but also has excellent performance and high fuel efficiency, especially It is a multi-purpose product of this type, which can ensure the comprehensiveness of the use of the work and obtain more investment return channels.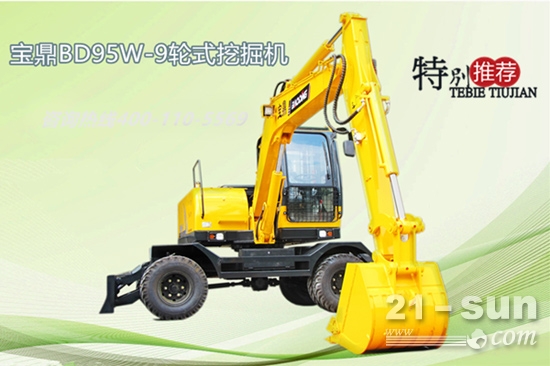 Baoding BD95W-9 multifunctional wheel excavator grab wood machine

Baoding BD95W-9 Wheel Excavator Configuration Accuracy Operation The customer experience of Baoding BD95W for this model product is that there is a certain improvement in the compound action of the same type of domestic wheel excavator on the market when it is working. Thanks to its smooth and comfortable handling, it can be easily excavated, swivelled, loaded, and lifted to increase productivity and reduce fatigue. Agile response After matching the hydraulic system optimized by Baoding Technical Department with the EFI engine, the user can control the machine to work as he likes. To maximize ease of use, the cab features an ergonomically designed monitor and controls, multiple adjustable driver seats, and air conditioning to make operators more comfortable.


Good handling smoothness and comfort
Baoding BD95W-9 wheel excavator has strong and reliable structural components, strong power, excellent combined digging force and faster digging speed for equipment, and can complete more operations in a shorter time. The machine also has excellent climbing ability, turning force and lifting capacity, and can easily deal with a variety of challenging work situations. The improved heat dissipation system can be used in more climatic conditions to reduce the occurrence of high temperature conditions during summer use. The structural parts are all made of high-strength manganese steel design. Wheeled excavator dedicated weighted bridges and internal reinforcement work devices can work stably under extreme conditions. Buckets are reinforced with heavy excavator bucket teeth and wear-resistant parts. Digging force and service life.


Easy maintenance

Update Improve maintenance points Customer maintenance is quick and easy to replace and maintain.



The whole system comes standard with two hydraulic lines
The whole system is equipped with two sets of hydraulic pipes to be able to mount more work accessories, and the work of grabbing, rotary drilling, crushing, etc. can all be satisfied, increasing the profit growth point of customers.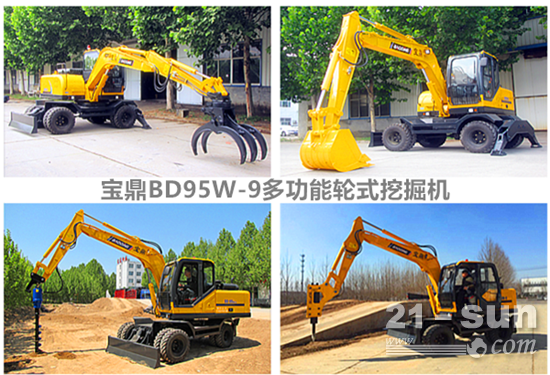 Baoding excavator manufacturers BD95W-9 wheel excavator

The listing of Baoding's excavator BD95W-9 wheeled excavator has increased the competitiveness of Baoding Company in the domestic wheel excavator market. Currently, this equipment is in hot pursuit, and the company has more orders from customers for overtime production. (This article comes from Baoding Machinery)

Related news: Baoding excavator