Diameter (D):
From 0.5m to 2.5m
Effective Length (EL):
From 5.0m to 28.0m
Total Length (Tl):
From 6.0m to 29.5m
Standard Number of Layers:
Usually 4-12 Layers
Transport Package:
as Customer Request
Specification:
see attached
1. Primary business:
 
Aohai Marine Fittings Co., Ltd mainly produce:

**Ship Launching Airbags

**caisson moving airbag

** Refloating and salvaging airbag

**Lifting airbag

**Rubber inflatable mandrel

**Pipe Tamper

Pneumatic Marine Rubber Fenders, Yokohama Fender, Super cell fenders (SC type), Cone fenders, Super Arch fenders (type SA), Cylindrecal fenders (Type Y), Semi-circular fenders (Type D), Type GD fenders, Type I fenders, Type U fenders,Turn cell fenders, Type π rubber fenders, Rubber ladder, Rubber fenders for tug boats,  PVC yacht fenders etc.
We have 15 years experience in Rubber Fender production and our customers include:
Mearsk , MSC, COSCO, CMACGM, OOCL, APL, NYK , NEW YORK port, KOBE port, YOKOHAMA port, Singapore port, ANTWERP port, LONDON port, HAMBURG port, DUBAI port, QINGDAO port, SHANGHAI port etc.
Certificate: ABS, LR, BV, NK, DNV, RINA, RS, IRS,CCS etc.
2.Product description:
High pressure safety explosion-proof launching airbag
 
(1). Using high quality raw material
(2). The unique whole winding process
(3). The size and structure of air bag
 The normal diameter of airbag can be 0.5m-2.5m, length 5-28m, layers can be 4-12 layer.
 Other models c an also be produced according to customer requirements.
(4)Production standards
   Our products manufactured strictly according with the CB/T3795 "ship upgrading, launching  airbag"   standards, factory check strictly before shipping.
(5)Use: a. Ship launching 

              b.

Wreck Removal and marine salvage

 

              c.

Heavy lifting
3. Specifications and Measures: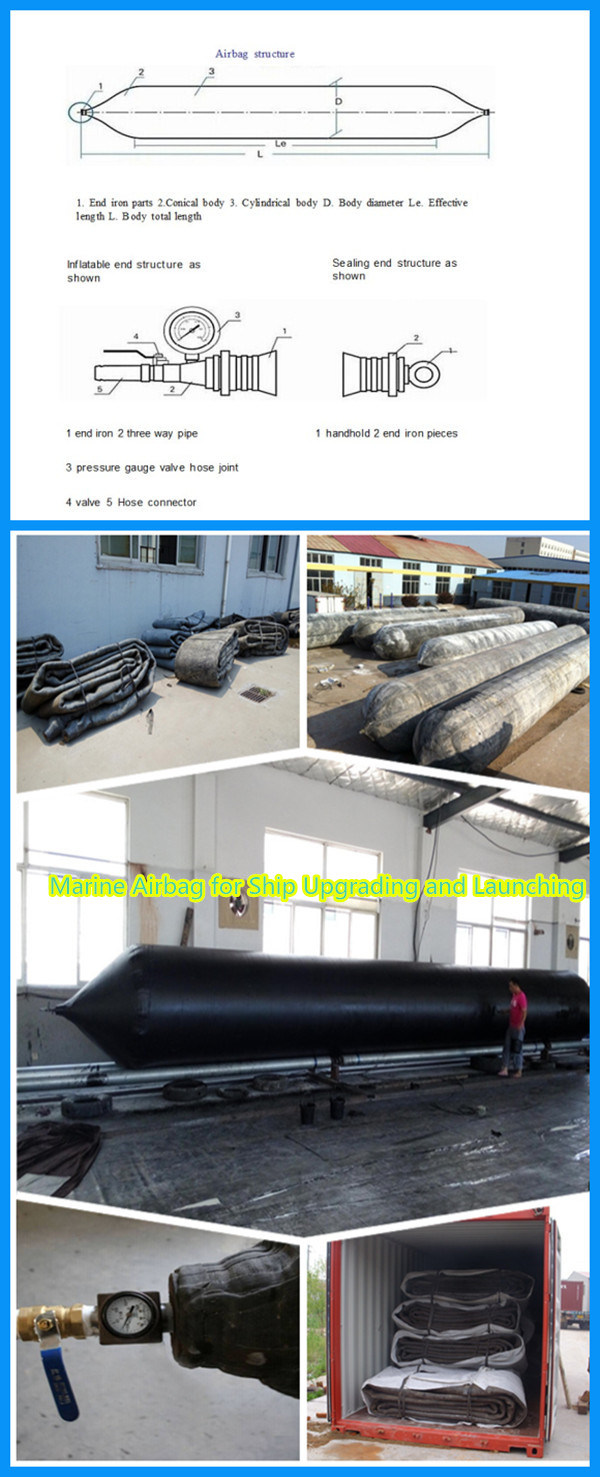 Specification of ship launching marine boat airbag 
Some normal sizes of our lift bags  , other sizes are also available

 Diameter(m)

Effective Length(m)

Layer

Pressure(MPa)

1.0

10

5~6

0.07~0.10

1.0

12

5~6

0.07~0.10

1.0

15

5~6

0.07~0.10

1.2

10

5~6

0.08~0.12

1.2

12

5~6

0.08~0.12

1.2

15

5~6

0.08~0.12

1.5

12

5~8

0.08~0.16

1.5

15

5~8

0.08~0.16

1.5

18

5~8

0.08~0.16

1.5

20

4~8

0.08~0.16

1.5

24

5~8

0.08~0.16

1.8

12

5~8

0.08~0.15

1.8

15

5~8

0.08~0.15

1.8

18

5~8

0.08~0.15

1.8

20

5~8

0.08~0.15

1.8

24

5~8

0.08~0.15

2.0

18

6~10

0.08~0.18

2.0

20

6~10

0.08~0.18

2.0

24

6~10

0.08~0.18

2.5

18

7~10

0.07~0.13

2.5

20

7~10

0.07~0.13

2.5

24

7~10

0.07~0.13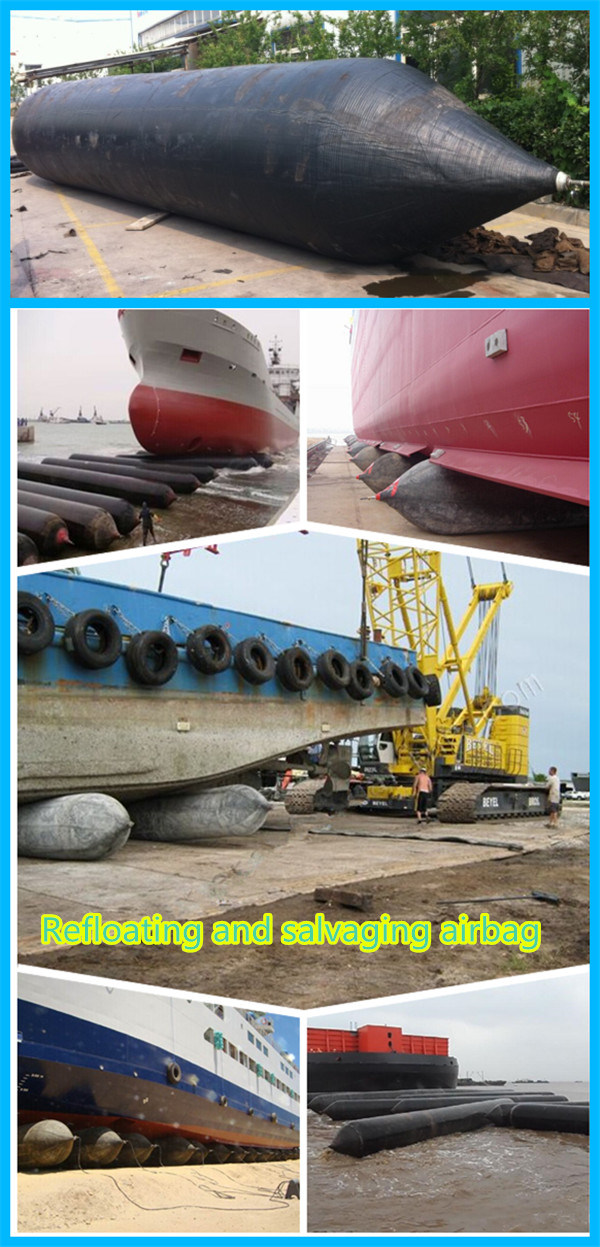 4.Contact information:

Anita Lee

TEL: +0086-18953229660 (24 hrs)

Fax:+86 532 5565 3888

Website:www.aohaimarine.com

5.Photos for reference:



 
Dock Marine Fender,Boat Fender Covers ,Dock Fenders ,Boat Supplies
Centrifugal Pump Co., Ltd. , http://www.luhangfender.com